Home - About Us - Riding Safer - Contact Us - Blog - Disclaimer - Links - Sitemap
Risk Hierarchy: Information - Rider Ed - Driver Ed - Conspicuity - Bike Defect - Ultra-Defensive Riding - Crash Avoidance - Injury Mitigation - Crash Scene

Review of "Motorcycling Excellence" by the MSF
The Motorcycle Safety Foundation's Guide to Motorcycling Excellence, 2nd edition.
Publ. 2005 by Whitehorse Press
Reviewed by ET, November 18th, 2009
This book, available from MSF's online store, and at a discount from online retailers, is a nicely-produced large-format paperback from a panel of experts. It's aimed at the beginning rider, either as preparation for a basic rider course, or for the safety-conscious newer biker who has qualified for a license but needs to work on his or her riding skills. It has something for riders at every level.
It's very slickly presented, with lots of illustrations and starts with the basics. The early chapters are reminiscent of the BRC manual, but mid-volume it takes off into more advanced street strategies and technical information on suspension and traction. More advanced riding techniques are covered towards the end.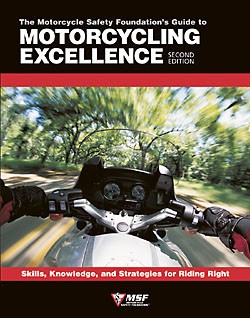 The book is written by a committee, so the style varies from chapter to chapter, but if this is the price to pay for having experts, like Kevin Schwantz on safety gear and Paul Thede of Race Tech on suspension basics, then it's worth it.
There are chapters on self-evaluation and buying a first motorcycle, basic riding skills, mental preparedness, and the predictable but informative chapter about alcohol.
Chapters on protective gear and an expanded treatment of bike pre-ride checks and basic maintenance, with Thede's sidebar on suspension tech are much deeper than the basic course material.
Street strategies and special riding situations are dealt with comprehensively, in three chapters starting with a piece on visual strategies. Then there's a series of examples, complete with diagrams. covering street situations, like merge lanes, left-turning cages, passing and about twenty others. The special situations chapter covers a list of special situations and problems, with tactics for dealing with them. Things like emergency braking, wheel lock, passengers, blowouts, weave and wobble, night riding.
The following chapters deal with traction, countersteering, cornering techniques, low-speed turning and off-road riding. They contain concise explanations and plenty of professional illustrations and charts, aimed at the basic technical level, accessible to all. These go beyond the usual MSF silence on terms like countersteering, which is welcome. The countersteering explanation, in particular, is a straightforward and understandable account, with eleven photographs and diagrams, a very good treatment.
This is a book which has a place in all bikers bookshelves, as a text for the learner and a reference for your first couple of years in the saddle. This is a time when bikers are most at risk, and the strategies here will help to develop the instincts and street moves to avoid problems in those early years.
Most of the material in the book can be found at various levels in sites like this and with the same fractured style. I'd wish for a little more integration of the lists of details, for example, the various street situations in chapter 8 are presented on a case by case basis, with little attempt to integrate the examples into more general strategies that could be extended to other situations. It's like we're getting a stringer of fish rather than being taught how to fish. And the corporate writing style rarely rises to the level of passion that other writers like David Hough and Lee Parks display when writing about their subject.
We have always disagreed with MSF's two second rule for following distance, which turns up in Chapter 7, Street Strategies and the Visual Edge. We think that stopping distance needs to be a much more complicated rule, incorporating much longer following distance and allowing the substitution of escape paths for some stopping distance. Due to the laws of physics, the optimal policy can't be as simple as 'two seconds'.
And Promocycle recommends a different braking and emergency braking procedure than MSF does. MSF recommends changing down gears during braking so that you end up in first gear, ready to get going quickly to get out of trouble. Promocycle recommends, based on experimentation, that the most efficient way to stop is to use both brakes, rear first, and stop in the same gear. They also emphasize that your quick stop procedure should be the same one you always use, so that braking is in muscle memory and you can do it automatically when needed. As engine braking force will vary as you change down gears, it makes sense that it might destabilize a maximum braking effort. The brakes alone are capable of absorbing all the available traction, and if you are at maximum braking force, you don't want to invite wheel lock by adding a little extra, less controllable, engine braking.
But being in first has an advantage in the case of spotting an impending rear-ender. As motorcycles are rear-ended in about 10% of crashes and collide with cages in front over 40% of the time, it seems like being able to stop quicker might have more value than a couple of seconds delay getting into first gear during routine stops. It's certainly an area that is open to debate, and engine braking has a definite value in hilly areas where constant brake use might lead to overheating in the brakes. The best advice has to be to practice the quick stop as much as possible and keep the skill current, whichever way you choose to brake. You might want to keep a close eye on following traffic when braking and shift down towards the end of the braking if being able to get going again looks like being an issue. Situational flexibility trumps the routine, always.
We 'd recommend a little extra reading around these areas, and also taking the time to make your own streamlined pre-ride check list, one you and your bike can live with.
For those who need their information in the form of a paper book, and want a basic primer, this book might be for you. You could easily read something here that might save your life.
MSF provided a free copy of the book for review.