Home - About Us - Riding Safer - Contact Us - Blog - Disclaimer - Links - Sitemap
Risk Hierarchy: Information - Rider Ed - Driver Ed - Conspicuity - Bike Defect - Ultra-Defensive Riding - Crash Avoidance - Injury Mitigation - Crash Scene

Book Review: 'Total Control High Performance Street Riding Techniques' by Lee Parks.
Publ. Motorbooks, Minneapolis, MN, 2003, $26.95
Reviewed by ET, July 28th 2009
I don't quite know what I was expecting when I picked up Lee Parks' book. It is a pretty volume, measuring 8 1/4 by 10 5/8 inches with 159 pages, many with color photos, mostly of bikes being ridden hard. There are also dozens of color diagrams. And Lee can write. Don't know if it was his stint as editor of Motorcycle Consumer News or if he was born a wordsmith, but he writes very well. He doesn't mind quoting writers from Nietzsche to Shunryu Suzuki (the Zen master, not the bike dude). It's a joy to handle and read this book. Lee is a former track rider, but this book is for anyone who rides a motorcycle. I have seen Lee's techniques done on Beemer tourers, a Harley Ultra Classic, a KTM, a Bandit and I've done it on my Honda ST1300 and 919.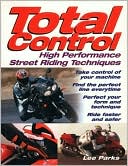 I had taken Lee's course a couple of weeks ago, (it's reviewed here), and it's fair to say that the training was a Eureka moment for me. It has changed my riding forever, and for the better. Don't know how it would have been if I had approached this book without that experience, but, knowing the techniques worked, no act of faith was required on my part. The book goes into Lee's theory of riding much more than was possible during the couple of hours of classroom work during the course, so I have been treating it as a reference.
The use of the phrase 'Total Control' is interesting to me. Whenever I think I'm in control of anything, I remind myself that I could be taken out by a meteorite any time. Especially in a chaotic world, filled with bad actors and doofuses, control is an illusion, or maybe a mental illness. Still, even as a pious assertion, it's a useful exercise to plan to control every aspect of riding my motorcycle, and to act as if I can. We must take responsibility for our ride and our outcomes.
The book is organized into five parts - Chassis Dynamics, Mental Dynamics, Body Dynamics, Machine Setup and Rider Setup.
Part 1, Chassis Dynamics, has chapters on Traction, Steering and Suspension. There are 21 photos and diagrams. There was one chart in the suspension chapter that made no sense to me, as the axes were unlabelled, but everything else was good. The traction and steering chapters made total sense. Lee is a suspension tuning expert and that chapter was a very clear and straightforward exposition of the subject, done without math and avoiding unnecessary complication, yet not talking down either. It was still a bit over my head, I think I could probably adjust the damping and preload on my bikes, after being through both the course and reading the piece, but I am going to be getting an expert to do anything else to my suspension. I am going to study this some more, but it is difficult.
Part 2, Mental Dynamics, was more familiar territory, and covered during the class. He talks about fear, concentration and the right attitude for learning. The paralyzing effect of fear is countered by developing the skills to handle the situation. Adrenalin can be exploited. Concentration and methods of getting 'in the zone' are discussed, with meditation analogues and tips for getting in the zone, staying there and troubleshooting issues of focus. Chapter 6, Right Attitude, is a medley of readiness to learn, motivation, and enjoying the experience of the road and the bike. All this makes sense to me, and while it has Lee's personal slant, it is good, solid advice. There's no question in my mind that mental and psychological factors are the main determinant of our riding outcomes.
Part 3, Body Dynamics, is largely to do with getting the motorcycle around corners, which is also the cornerstone of the Total Control (level 1) course. Vision is discussed, including the well-known aspect of looking into the turn, but also avoiding tunnel vision and/or target fixation by what Lee calls 'floodlight vision'. It is based on peripheral vision. Most experts consider this vital, not just in cornering, but in all areas of defensive riding. Line selection through the turn is discussed at length, with several very clear color diagrams. Delaying the entry point is key.
Chapters 9 and 11 are about throttle and brake control, based on the Freddie Spenser method. The motivation here is get the very best out of your suspension and avoid sudden transitions. Quick stops and trail braking are discussed. Chapter 10 covers shifting, including a very interesting technique of clutchless upshifting. There's also some downshifting hints.
Chapter 12 is about body position in the turn, this is probably the heart of the matter for Lee's turning technique. The ten steps for correct cornering are given. This was also the focus of the course. I am not sure whether the explanation here, though in-depth, is quite enough to figure out how to do it for yourself. I think it requires throwing yourself into the abyss, an act of faith that might be beyond many people. It is certainly excellent additional information for those who have taken the course, and, for those who haven't, motivation to take the course. Precocious riders can figure it out from here. The last chapter in this part is a diametrically opposite technique for low-speed turns and u-turns, and there's an afterthought in the form of an excellent primer on 2-up pillion riding.
Part 4, Machine Setup, has chapters on suspension setup, including a troubleshooting section, ergonomics, including controls, pegs and seat adjustments, aerodynamics with insightful remarks on drag and bike design, mostly critical of current design trends, and chassis tuning, including notes on alignment. Taken together and with the first part, a pretty good reference on important parts of bike design and engineering. He barely has a word to say about engines. This makes sense. Most modern engines are already efficient and complex, and there's more performance bang for the buck in modifying suspension, rubber and chassis parts.
Part 5, Rider Setup, has chapters on fitness, gear and track days. The fitness section promotes general fitness as a riding benefit, which I would agree with, including weightlifting, cardio, diet and hydration. Some sport-riding specifics for lower back are mentioned. Chapter 20 is about riding gear. He likes the Stich suit, which is also my favorite, and he talks about types of sewing for durability and abrasion resistance, leathers, armor, gloves (which he knows about as he sells them), helmets and boots. Essential survival gear, whether on the track or the street. The last chapter is a discussion of track days, as fun and as a training aid, with the slippery slope of getting into competitive riding always present. He goes into the track days angle in great detail, with a list of tracks and organizations and detailed descriptions of track etiquette and bike mods required.
Except for one opaque diagram and a couple of over-used analogies about pizza, the reading experience was delightful, and my issues with the suspension chapter are definitely mine, not the book's. This is an erudite and almost scholarly work. Lee Park's devotion to the art, craft, mysticism and science of riding comes through hard. I can say, from my own experience, that the techniques as described do work, and they have, after a mere 12 days and 800 miles, totally changed my riding. Lee's sports-derived science of cornering is much more efficient than the crude, wham-bam, jam it around the bend methods I had been using. This more efficient turning technique gets you around much faster, or with a lot of room to spare, or some combination of these. I've been taking it as about a third extra speed and two thirds extra safety margin, and, as the bike is more upright in the turn, gravel and surface trash is less of a problem. In other words, the racer's technique can make it safer, and it's fun too.
This is the thinking man's riding book. It could totally change your relationship with your bike and the road.
I would caution readers, if you are using this book to learn the Lee Parks cornering technique, to build up slowly. It seems to me that, while the outcome can produce greater safety, getting there might well be dangerous. You can't learn these techniques quickly, and I think many riders might need help to get there, like I did. Use of throttle and brake together, especially in a turn, requires a lot of skill, and moving your body to hang out on a bike in motion could easily take you down hard before you get it right. So be careful, and if you get your bike into the mix, baby steps please. Like Lee says, if you plan to work the techniques in the book, do it with a riding buddy, so there'll be someone to dial 911. And read the whole book, especially chapter 20 (riding gear) before you take it out into a parking lot.
Lee Parks provided a free review copy of the book. The book is also available from on-line and bricks-mortar booksellers, sometimes at a respectable discount from list price.